Listed below, you will find our current rates and policies. If you do not find the information you need, please contact our office and we will provide it for you.
Water Rates
Water Rates Effective as of July 1, 2022 Bill
Flat Rate/plus scale below for water usage
Flat Rate for Irrigation Meter plus scale below for water usage
$33.56

$12.00
Usage (gal.):
Price per 1,000 gallons used
0-4,999
$6.00
5,000-9,999
$6.25
10,000-19,999
$6.50
20,000 and above
$6.75
To clarify how this works, the first 4,999 gallons costs everyone $6.00/1,000 gallons used calculated at $.006/gallon. If you go over 5,000 gallons, the amount used from there to 9,999 gallons will be charged at $6.25/1,000 gallons, etc.. This is illustrated in the table below.
These numbers do not reflect the other costs that the City of Lawton adds on each acct such as Waurika Pumping Fee which we just pass through. So, total bills will be slightly higher than these numbers.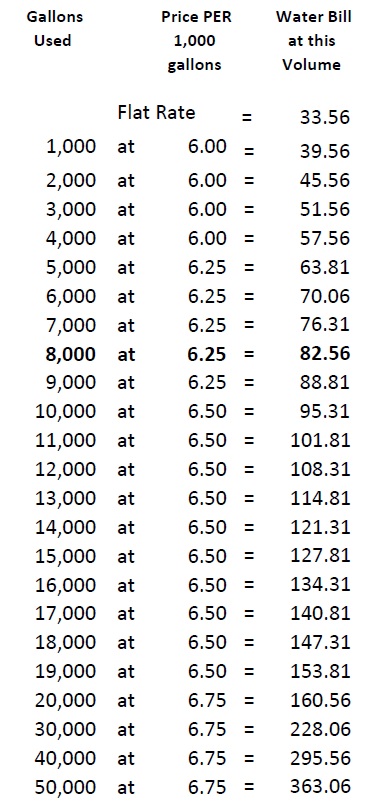 NOTE: Water users with Septic Systems Are NOT Charged Sewer Rate. These Only Pay Water Rates.
Residents on Pecan Valley's Sewer Pay Water Rates & Sewer Rates.
Irrigation Meters are Not Charged Sewer Rates. Irrigation Meters are Only Charged Water Rates.
Sewer Rate
| | |
| --- | --- |
| Sewer Rate as of 8/15/2022 | $36 |
| | |